400 SDEA Members Rally to Fight Layoffs
Posted on February 23, 2011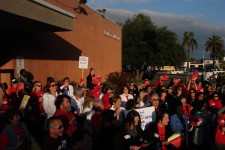 Hundreds of teachers, nurses, counselors, librarians, support professionals, parents and community leaders packed the SDUSD School Board meeting on Tuesday, Feb. 22 to urge the Board to seek real alternatives to laying off teachers, nurses, counselors and other front line educators.
Prior to the School Board meeting, approximately 400 SDEA members rallied outside the Education Center to urge the Board to seek real alternatives to laying off front line educators at the School Board meeting on Feb. 22. The Board is considering issuing 910 layoffs, which would render our schools simply unable to function. Those 910 positions include literally the entire state preschool program as well as 20 elementary schools worth of elementary teachers and two high schools worth of secondary teachers.
While the crisis in fundin
g our schools is real, the truth is that there are still unnecessary layers of administration and wasteful programs that the Board can cut. Layoffs and increased class sizes go hand in hand! Teachers, nurses and counselors brought the message to the Board that in order to protect our students, the District needs to do a better job streamlining resources.
Parents and teachers will continue to stand together because we all understand that:
Layoffs mean that class sizes will go through the roof. We cannot afford to put our children into classrooms so overcrowded that learning is impossible.
Layoffs also put kids in danger by cutting front line support staff who care for the health and well being of our students, such as nurses and counselors.
Programs such as music, art, athletics and library services aren't just luxuries. They provide important support and enrichment to keep kids in school and to support good teaching and learning.
"The education community is calling on the SDUSD Board of Education to keep its promise to keep the budget cuts away from our classrooms," said SDEA President Bill Freeman. "Layoffs are as divisive as they are unnecessary. By working with parents and educators, we can and will stop the layoffs and end the crisis in education in order to build a brighter future for our children."