May 1, 2012
3:30 pm
to
6:00 pm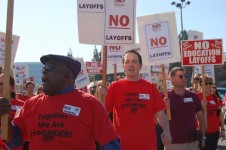 More than 1000 educators, parents, and students will take to the streets on Tuesday, May 1st, marching from Roosevelt Middle School to the SDUSD Education Center to protest education cuts and layoffs.
San Diego Unified issued pink slips to almost 1,700 educators – that's nearly 1 in 4!  But on May 1st marchers will remind the district that the way to grow our economy and create good jobs for San Diego is to invest in San Diego again.  The means investing in theworkers of our future – our kids – by giving them the schools that create an educated, innovative workforce – not cutting educators.
The event begins at 3:30 at Roosevelt MS.  Work at a late-start school?  If you can't make it to Roosevelt before the march takes off at 4:15, join the march at the Education Center from 4:45 – 5:15 before it loops back to Roosevelt.
ARs picked up flyers for the march at SDEA Representative Council meeting on April 18 to share with members, and for members to pass out to parents.  A printable flyer in English and Spanish is available here (2).